Nadia Polikarpova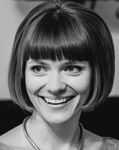 Address
Nadia Polikarpova
Software Engineering, Meyer
Clausiusstrasse 59
RZ J8
8092 Zurich

Introduction
This page is outdated. Check out my new homepage.
I have completed my PhD under the supervision of Prof. Bertrand Meyer at the Chair of Software Engineering, ETH Zurich. My thesis is about Specified and Verified Reusable Components. I received my Master degree in Applied Mathematics and Informatics in 2008 at Saint Petersburg State University of Information Technologies, Mechanics and Optics (St. Petersburg, Russia). I did my Master's thesis under the supervision of Ilinca Ciupa from ETH.
You can find more information in my curriculum vitae.
Research
My research interests lie in the area of software correctness, at the intersection of formal methods and software engineering. In particular, my research has contributed to auto-active verification, behavioral interface specifications, automated testing, dynamic invariant inference, and user interface for verification.
Here is the list of ongoing or completed projects I've been involved in:
Publications
2014
Nadia Polikarpova, Julian Tschannen, Carlo A. Furia, Bertrand Meyer: Flexible Invariants Through Semantic Collaboration FM'14: 19th International Symposium on Formal Methods, (Singapore), May 2014 [pdf] [supplementary material]
Nadia Polikarpova: Specified and Verified Reusable Components PhD thesis, April 2014 [pdf]
2013
Nadia Polikarpova, Carlo A. Furia, Scott West: To Run What No One Has Run Before RV'13: International Conference on Runtime Verification, (Rennes, France), September 2013 [pdf] [supplementary material]
Nadia Polikarpova, Carlo A. Furia, Yu Pei, Yi Wei, Bertrand Meyer: What Good Are Strong Specifications? ICSE'13: International Conference on Software Engineering, (San Francisco, USA), May 2013 [pdf] [video] [supplementary material]
K. Rustan M. Leino, Nadia Polikarpova: Verified Calculations VSTTE'13: Verified Software: Theories, Tools and Experiments, (Atherton, USA), May 2013 [pdf] [supplementary material]
2012
Nadia Polikarpova, Michał Moskal: Verifying implementations of security protocols by refinement. VSTTE'12: Verified Software: Theories, Tools and Experiments, (Philadelphia, USA), January 2012 [pdf]
2011
Vladimir Klebanov et. al.: The 1st Verified Software Competition: Experience Report FM'11: 17th International Symposium on Formal Methods, (Limerick, Ireland), June 2011 [pdf] best paper award
2010
Nadia Polikarpova, Carlo A. Furia, Bertrand Meyer: Specifying Reusable Components. VSTTE'10: Verified Software: Theories, Tools and Experiments, (Edinburgh, Scotland), August 2010 [pdf]
2009
Nadia Polikarpova, Ilinca Ciupa, Bertrand Meyer: A comparative study of programmer-written and automatically inferred contracts. ISSTA'09: International Conference on Software Testing and Analysis, (Chicago, Illinois, USA), July 2009 [pdf]
Teaching