Mei Tang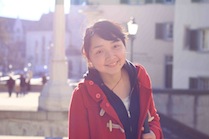 Address
Mei Tang
Software Engineering, Meyer
Clausiusstrasse 59
RZ J5
8092 Zurich

Introduction
I am a PhD student at the Chair of Software Engineering at ETH Zurich, under the supervision of Prof. Dr. Bertrand Meyer.
I received my master's degrees in 2010, at Wuhan University, and I finished my master's thesis under the supervision of Martin Nordio, on proof transformatin of separation logic.
Research
My main research area is program verification. Currently, I'm working with Martin Nordio on proof transformation of separation logic.