Welcome
The Chair of Software Engineering is devoted to the development of methods and tools for improving software quality. Although we attempt to cover the whole field of software engineering, our areas of emphasis are:
Software verification (both proofs and tests)
Concurrency
Persistence and evolution
Object-oriented reengineering
Language design and evolution (with particular focus on Eiffel)
As part of our activities we organize events such as the annual Laser Summer School.
News
September 24, 2014 The paper A Comparative Study of Programming Languages in Rosetta Code by Sebastian Nanz and Carlo A. Furia is discussed on Slashdot and elsewhere.
August 21, 2014 Our paper Awareness and Merge Conflicts in Distributed Software Development won the Best Paper Award at the 9th International Conference on Global Software Engineering (ICGSE'14).
August 5, 2014
Prof. Bertrand Meyer has been awarded an honorary doctorate by the University of York, UK, in recognition of his contributions to software engineering.
July 14, 2014

Our group's research on automatic language translation gave rise to an ETH Spinoff company
mtSystems
. The company offers fully automatic, complete, and correct translation of C source code to Java source code, at a low cost and with low risk!
July 9, 2014
Scott West successfully defended his PhD thesis Correctness and Execution of Concurrent Object-Oriented Programs. Congratulations!
June 18-19, 2014
The Roboscoop team demonstrated their progress at the SmartWorld Workshop 2014 in Thun, Switzerland. Check out the video of the SmartWalker gesture control.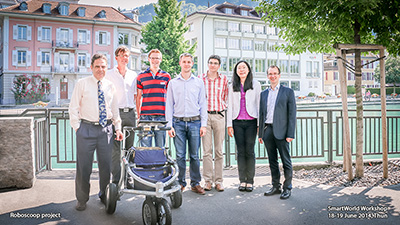 April 29, 2014
Nadia Polikarpova successfully defended her PhD thesis Specified and Verified Reusable Components. Congratulations!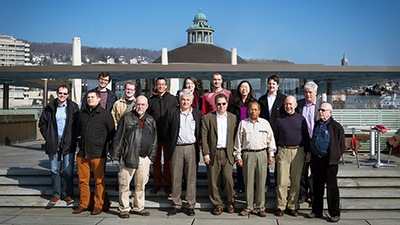 March 6-7, 2014
The first scientific advisory board meeting of our ERC Advanced Grant
Concurrency Made Easy
was held at ETH Zurich. The photo shows board members Manfred Broy, Maurice Herlihy, José Meseguer, Jayadev Misra, Dave Parnas, and Bill Roscoe with the
CME team
.
March 5, 2014
Benjamin Morandi successfully defended his PhD thesis Prototyping a concurrency model. Congratulations!
December 2, 2013
The registration for LASER 2014 is now open. The topic will be Leading-Edge Software Engineering.
February 20, 2014
We hosted the Niklaus Wirth Birthday Symposium. It was hugely successful, with the many distinguished speakers contributing to the high quality of the event.
November 28, 2013 On February 20 we will host a symposium in honour of Professor Niklaus Wirth's 80th birthday. The event is a full-fledged scientific conference with prestigious speakers. We invite you to register and join us in celebrating one of the founding fathers of computer science.
October 11, 2013 Our paper Benchmarking Usability and Performance of Multicore Languages won the Best Paper Award at the 7th International Symposium on Empirical Software Engineering and Measurement (ESEM'13).
September 24, 2013 Check out our MOOC! A project led by Marco Piccioni has resulted in an electronic version (Massive Open Online Course) of our popular course "Introduction to Programming". Participants from anywhere in the world can take the course at their own pace, including exercises and quizzes. They can also compile and run their example programs on the Web, and test them against correct results, with no software installation required, thanks to Christian Estler's Eiffel4Mooc framework at http://se.ethz.ch/mooc/programming.
August 29, 2013 Our paper Collaborative Debugging won the Best Paper Award at the 8th International Conference on Global Software Engineering (ICGSE).
August 16, 2013
We've launched a new website for our ERC Advanced Grant research project
Concurrency Made Easy (CME)
. Find out about our team, our current research activities, the SCOOP concurrency model, and watch our new YouTube video at
cme.ethz.ch
.
May 08, 2013
Try some of our research tools online. The Comcom website lets you run them directly in your browser... Read more.
Recently accepted publications
| Title | Authors | Conference or Journal | Accepted |
| --- | --- | --- | --- |
| Bounded Variability of Metric Temporal Logic | Furia, Spoletini | TIME 2014 | June 14, 2014 |
| Simple Concurrency for Robotics with the Roboscoop Framework | Rusakov, Shin, Meyer | IROS 2014 | May 17, 2014 |
| Verifying Monadic Second-Order Properties of Graph Programs | Poskitt, Plump | ICGT at STAF 2014 | May 12, 2014 |
| Awareness and Merge Conflicts in Distributed Software Development | Estler, Nordio, Furia, Meyer | ICGSE 2014 | Apr 27, 2014 |
| Safe and Efficient Data Sharing for Message-Passing Concurrency | Morandi, Nanz, Meyer | COORDINATION 2014 | Mar 11, 2014 |
| SPOC-supported Introduction to Programming | Piccioni, Estler, Meyer | ITiCSE 2014 | Mar 03, 2014 |
| Teaching a Core CS Concept through Robotics | Magnenat, Shin, Riedo, Siegwart, Ben-Ari | ITiCSE 2014 | Mar 03, 2014 |
| Automated Fixing of Programs with Contracts | Pei, Furia, Nordio, Wei, Meyer, Zeller | IEEE TSE | Mar 03, 2014 |
| Flexible Invariants Through Semantic Collaboration | Polikarpova, Tschannen, Furia, Meyer | FM 2014 | Feb 01, 2014 |
| Contracts in Practice | Estler, Furia, Nordio, Piccioni, Meyer | FM 2014 | Feb 01, 2014 |
| An Experiment on Teaching Coordination in a Globally Distributed Software Engineering Class | Nordio, Estler, Meyer, Aguirre, Di Nitto, Prikladnicki, Savidis | CSEE&T 2014 | Jan 27, 2014 |
| Automatic Program Repair by Fixing Contracts | Pei Furia, Nordio, Meyer | 17th International Conference on Fundamental Approaches to Software Engineering (FASE) | Dec 20, 2013 |
| AutoProof Meets Some Verification Challenges | Tschannen, Furia, Nordio | International Journal on Software Tools for Technology Transfer | Dec 17, 2013 |